Book Report Thursday: Dance, Dance, Dance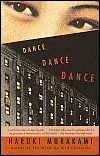 Dance, Dance, Dance by Haruki Murakami
This is the first Murakami novel I've read, having stalled out on
Norwegian Wood
a few years ago. It's a sheer delight, a deeply weird story of an aimless 34-year old freelance writer, his aquaintance from middle school (now a movie star), three call girls, an intensely beautiful teenage psychic, a one-armed American poet who spends his days fixing sandwiches, a failed writer named Hakari Makimuri, and the Sheep Man who inhabits a separate reality. The novel is what I understand to be a Murakami trope: disaffected thirtysomething, unsure what he's accomplishing in his life, alienated by his meaningless job "shoveling cultural snow", and unable to forge true connections to the people around him. He trudges through, distracting himself as best as possible, while wondering if and when things will change. There are a few hopeful sparks amidst a fundamentally disheartening series of events, and in the end it's only vivid personalities that we have to hold onto. With such an oddball cast, there's much not to relate to, but I identify with this brief passage, with the protagonist on a quasi-date with the teenage psychic:
I bought Yuki a chocolate from the snack bar as we waited for the movie to start. She broke off a piece for me. When I told her it'd been a year since I'd last eaten chocolate, she couldn't believe it. "Don't you like chocolate?" "It's not a matter of like or dislike," I said. "I guess I'm just not interested in it." "Interested? You are weird. Whoever heard of not liking chocolate? That's abnormal." "No, it's not. Some things are like that. Do you like the Dalai Lama?" "What's that?" "It's not a 'what,' it's a 'who.' He's the top priest of Tibet." "How would I know?" "Well, then do you like the Panama Canal?" "Yes, no, I don't care." "Okay, how about the International Date Line? Or pi? Or the Anti-Trust Act? Or the Jurassic Period? Or the Senegalese national anthem? Do you like or dislike November 8, 1987?"
I love lists of marginally related entities.